In Memory
Alben Barkley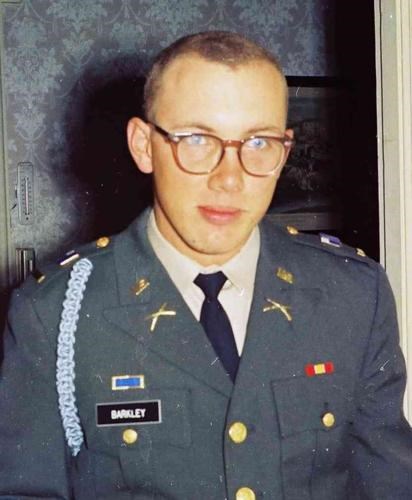 ALBEN W. BARKLEY II, 78, of Marion, Ky., died Monday, Jan. 30, at the Western Kentucky Veterans Center in Hanson, Ky. An eighth-generation American farmer, veteran, and politician, Alben was a loving husband and father. He was born in Randolph Field, Tx., at the Army base where his father, David, served as a pilot in the Army Air Corps. Alben later moved with his family to Paducah, Ky., and he grew up at Sunnybark Farm and Angles, the home of his grandfather and namesake who was a U.S. congressman, senator, and vice president. Alben loved to be on his farm, Caney Creek Farm, in Marion, over the years growing corn and soybeans, raising hogs and cattle, and training quarter horses to be cutting horses.

Alben attended the public city schools in Paducah and graduated from Paducah Tilghman in 1962, where he played basketball and football. He matriculated to Murray State University and graduated in 1967 with a Bachelor of Arts in English, history, and political science. Alben participated in Army ROTC at Murray State and was named the distinguished military graduate of that program. After college graduation, he joined the Army, training at Fort Hood, Tx., and completing ranger school at Fort Benning, Ga., at the top of his class. In 1969, he was ordered to Vietnam, where he served as a first lieutenant and later captain in the First Infantry Division, Delta Company, leading a platoon in night defensive operations in III Corps of South Vietnam. After six months in the field, Alben served for another six months as a liaison officer to the South Vietnamese. He later concluded his military service in Fort Meade, Md., where he managed logistics for National Guard training. Alben received the Combat Infantryman Badge, Bronze Star Medal, Army Commendation Medal, and Air Medal and was honorably discharged in 1971.

After leaving the military, Alben moved to Marion, where he spent time hunting as a child, to begin farming and start a family. In 1979, Alben was elected Kentucky commissioner of agriculture, serving a four-year term. During his time as commissioner, he assisted with the creation of the aquaculture program at Kentucky State University and worked to enhance the livelihoods of citizens and farmers across the Commonwealth of Kentucky. He ran unsuccessfully for lieutenant governor in 1983 and later moved back to Marion. There, in addition to farming, he served as a probation officer in Paducah for many years while managing real estate properties in Marion and Paducah. Alben was an avid hunter and outdoorsman, spending two weeks every year hunting elk in Colorado and Wyoming.

Alben was preceded in death by his wife, Patricia, his mother, Dorothy, his father, David, and his stepson, Patrick. Alben was devoted to and is survived by: his sister, Dottie Barkley of Carbondale, Il.; his son, Lucas (Linette) Barkley of Lexington; his daughter, Beth (Charles) Barkley of Bardstown; his son, Clay (Laura) Barkley of Louisville; his stepdaughter, Kelly (Ray) Harris of Paducah; his stepdaughter-in-law, Erin Mobley of Paducah; his grandchildren, Evan and Maddie Barkley, Dottie, Kit, and Gus Coulston, and Ben, Breck, Eliza, and Isaac Barkley; and many other family members and friends. His family will greatly miss his hearty laugh, sense of humor, and love for animals.

Memorial donations may be made to the Vietnam Veterans Memorial Fund, 3033 Wilson Blvd., Suite 300, Arlington, VA 22201. A celebration of life for Alben will be held at the Glendale General Baptist Church in Crittenden County, at a date and time to be determined. According to his wishes, Alben's ashes will be buried in the Barkley family plot at Mount Kenton Cemetery in Paducah.
https://www.legacy.com/obituaries/legacy/obituary.aspx?n=alben-william-barkley-ii&pid=203792025